Agencia Estatal Consejo Superior de Investigaciones Científicas.
since 2005 head of the Systems Biotechnology.
His work mostly devoted to bio-prospect, discover, characterise, engineer, and apply new versatile enzymes for a new bio-economy growth; he also devoted extensive effort in generating and integrating multi-omics datasets using bioinformatics to understand complex microbial communities in multiple environmental and health contexts and exploit them in biotechnology and medicine.
research is focussed in the interpretation of biological phenomena in terms of structural studies at the molecular level, to use this knowledge for biotechnological and biomedical applications.
She is a member of the Commission of Biological Macromolecules (CBM) within the International Union of Crystallography (IUCr).
has a Bachelor's Degree in Chemistry (Spain) and a Master Degree of Science in Molecular Science (Germany). For the last four years she was working in crystallography and structural biology, field in which she is currently developing her PhD research. More specifically, she is working with promiscuous ester hydrolases.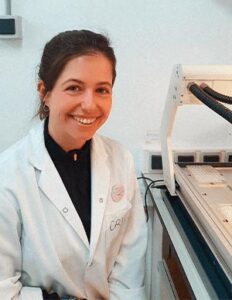 has a bachelor's degree in Biology and a master degree in Biotechnology. She first started her scientific career in the Biological Research Centre (CSIC) developing biocatalysts for biofuel production and bioremediation. Then she obtained a PhD fellowship and moved to the Institute of Catalysis (CSIC) where she performed her doctoral thesis in the INMARE project context, finding marine biocatalyst interesting for biotechnological purposes.
has a Grade in Biochemistry and a Master Degree in Industrial and Environmental Biotechnology. For the last 5 years she worked in proteomics, genomics and enzyme immobilization, design, isolation and characterization. More specifically, her PhD research is focused on the development and study of Plurizymes under the supervision of Prof. Manuel Ferrer.

has a degree in Biology from the University of Alcalá de Henares. He worked in the Biological Research Centre (CSIC) studying plant viruses and in the Biotechnolgy National Center (CSIC) in antibody development against HIV. In recent years he has been working in the Institute of Catalysis (CSIC) on purification and characterization of proteins such as peroxidases and esterases.
Dr. Patricia Molina Espeja
has a Bachelor's Degree in Biology and a Master Degree in Microbiology. For the last ten 10 years she worked in directed evolution of enzymes, field in which she developed her PhD research and postdoctoral period. More specifically, she worked improving oxidoreductases for greener organic synthesis using Saccharomyces cerevisiae as driving force and in the frame of different European Projects.